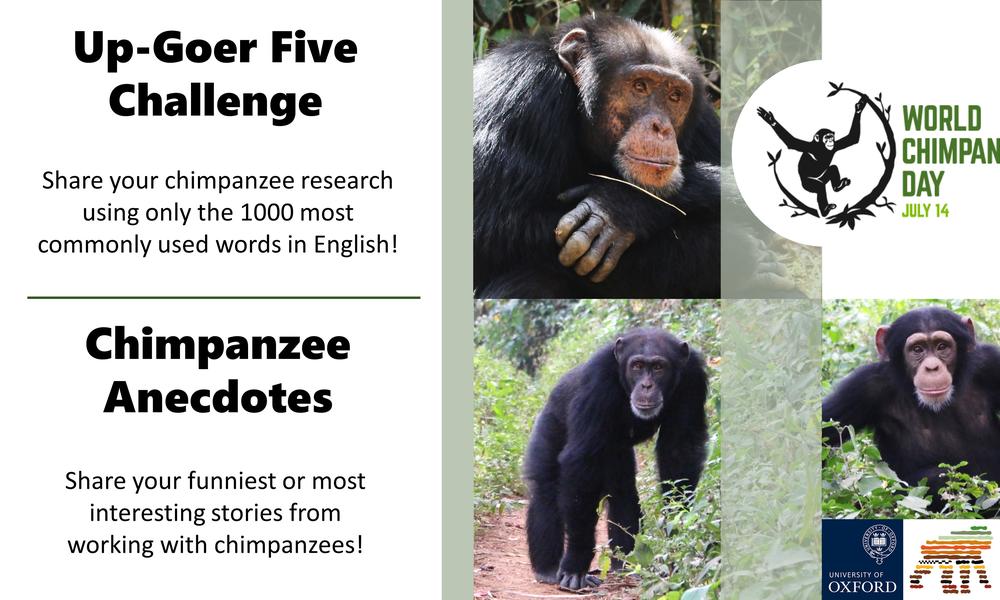 Help us celebrate World Chimpanzee Day on 14th July 2021!
Discover what we have planned through the link below and register your interest to get involved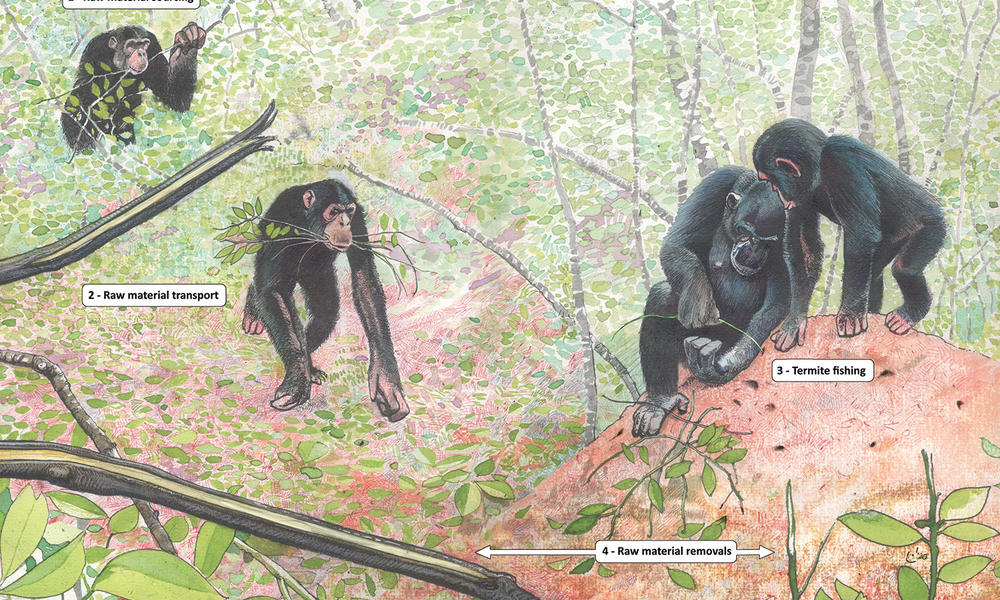 Archaeology of the Perishable
Milestone comparative study led by Alejandra Pascual-Garrido and Katarina Almeida-Warren out now in Current Anthropology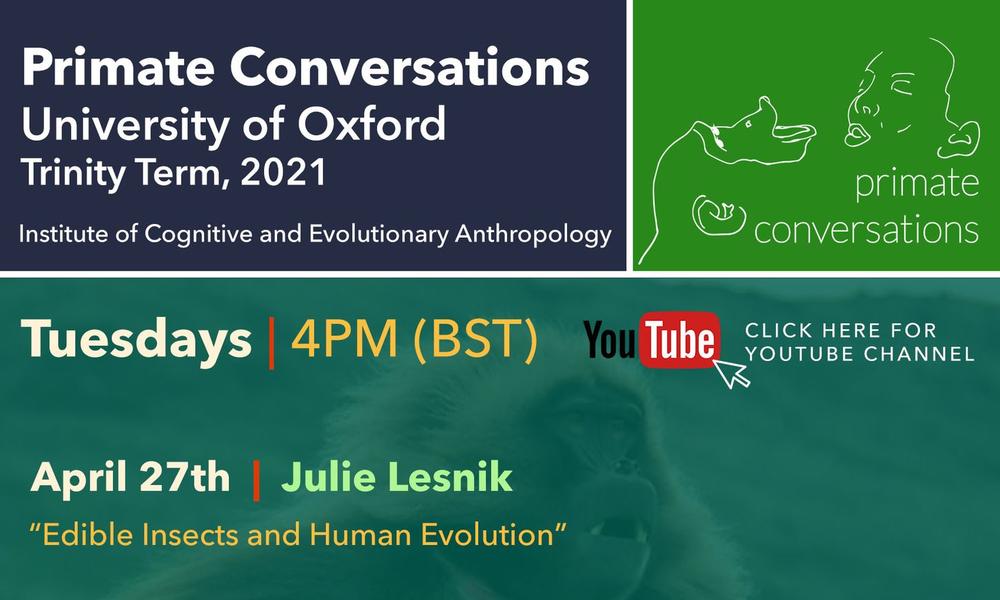 Primate Conversations Trinity Term 2021
Our virtual seminar series may be over until Michealmas Term 2021, but you can watch all of our talks from the past year on YouTube!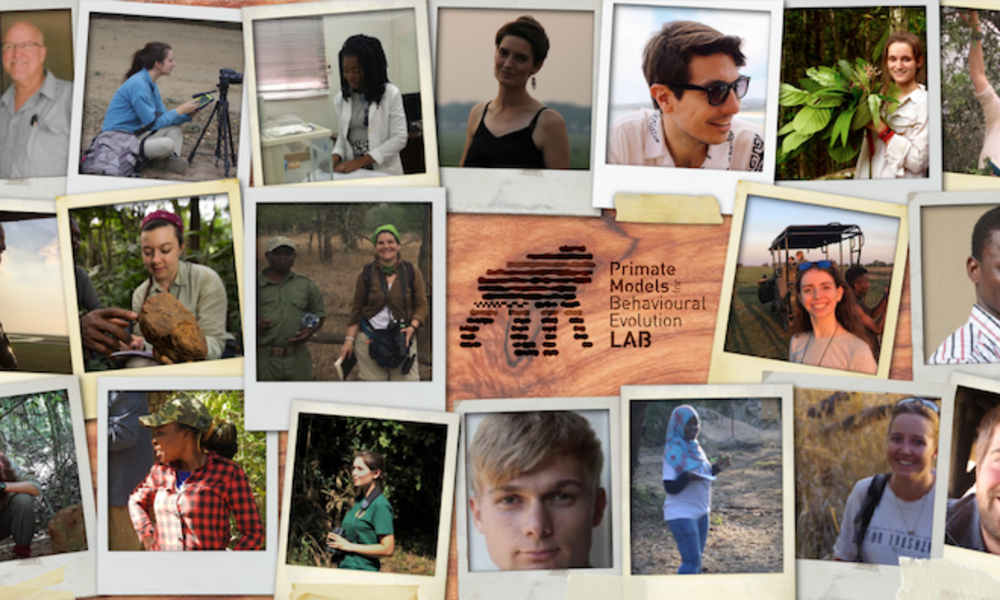 Getting creative for our latest Lab photo!
March 2021 - even though it has been a year since we were able to meet in person, we can still keep the Lab photo tradition going!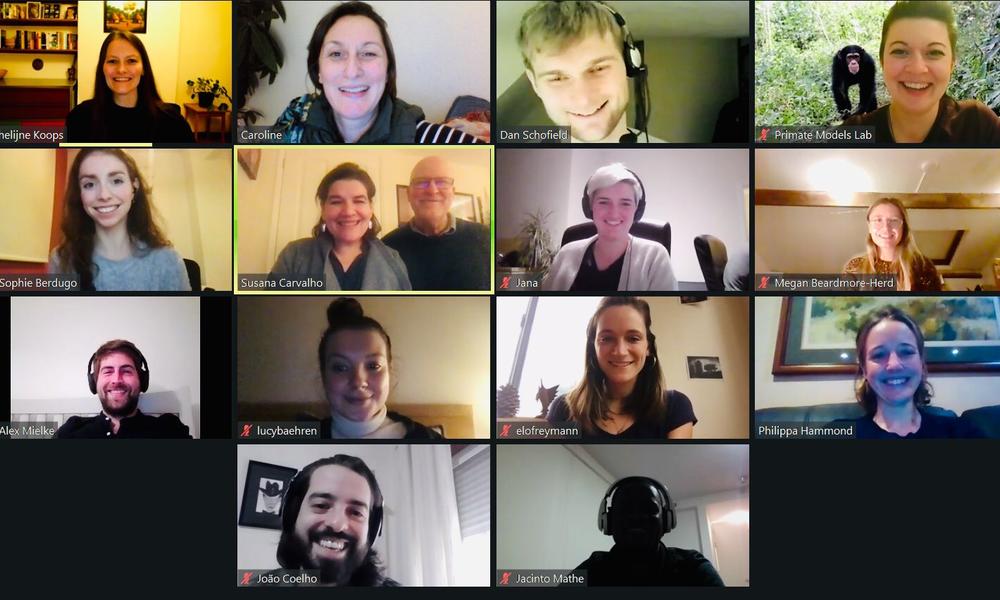 Our post-Primate Conversations get togethers look a little different nowadays, but are wonderful all the same!
Here we are with Dr Kathelijne Koops following her brilliant talk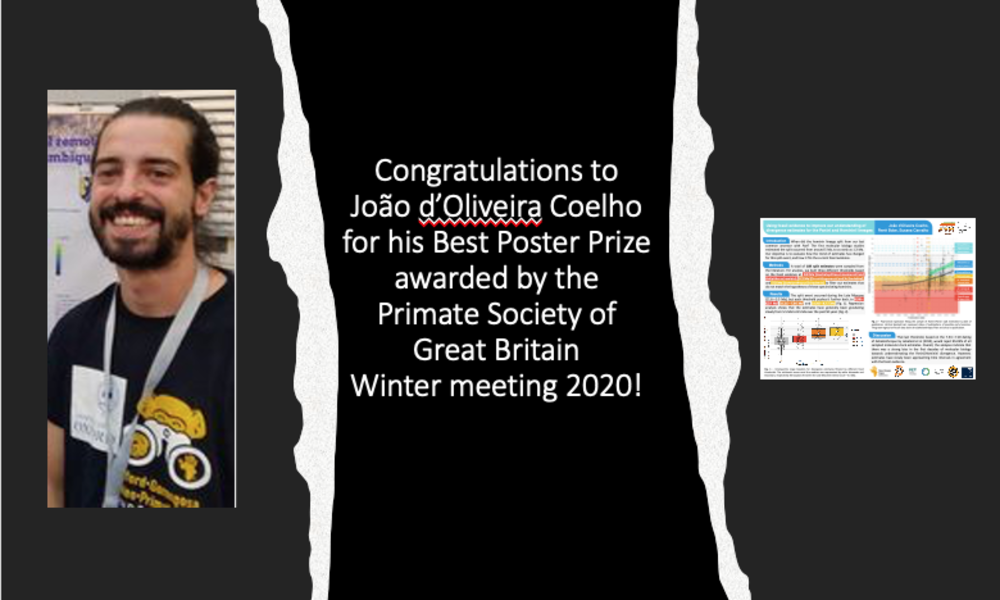 Congratulations to João d'Oliveira Coelho
for his winning poster on 'Using fossil evidence to improve our understanding of divergence estimates for the Panini and Hominini lineages'!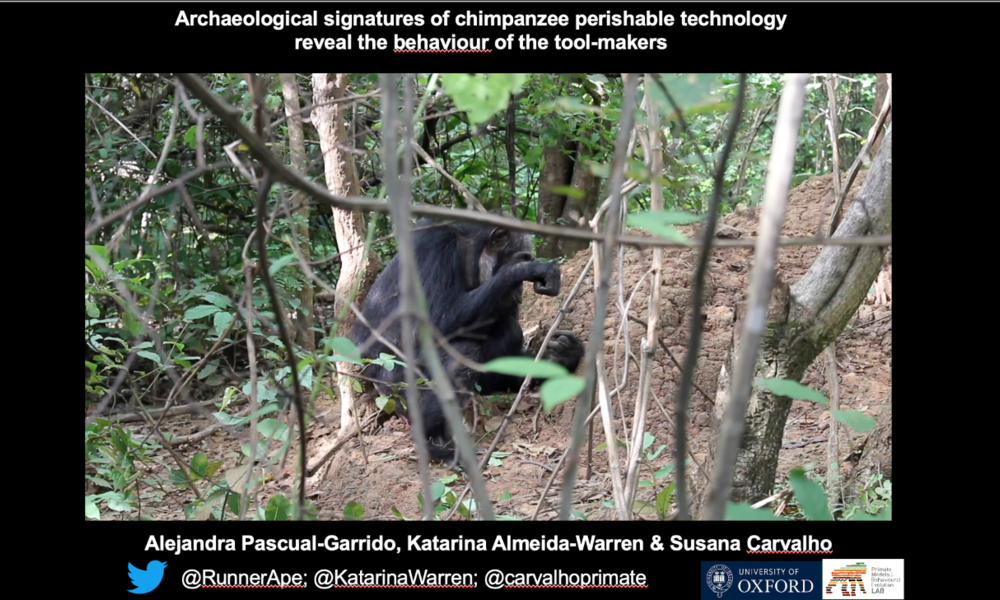 ESHE 2020
Alejandra, Katarina & Susana present their research on archaeological signatures of chimpanzee perishable technology, followed by a live Q&A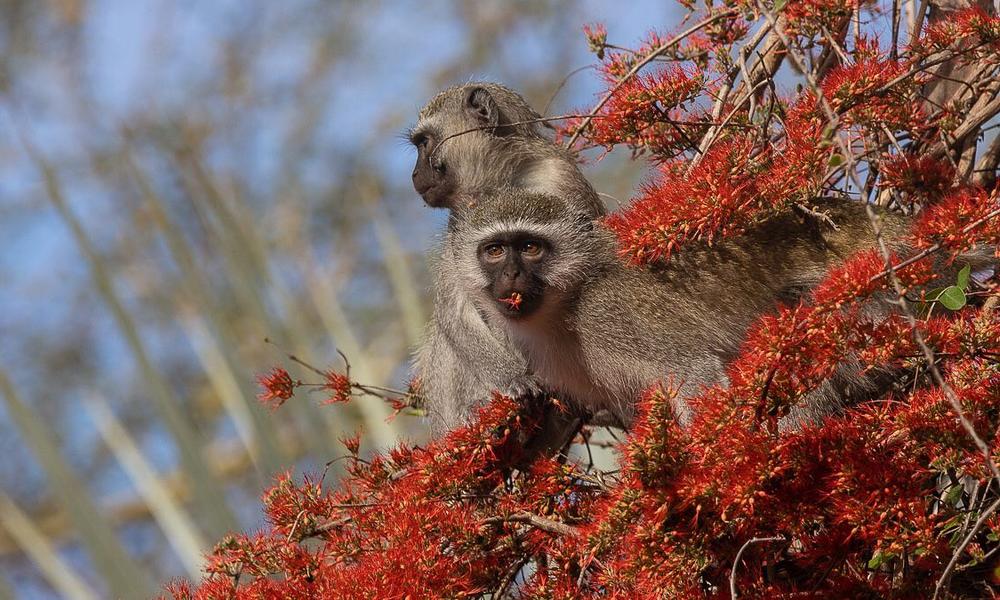 Gorongosa National Park, Mozambique
Vervet Monkeys feeding on the flowers of the Flame Creeper (Combretum microphyllum) - photo by Lee Bennett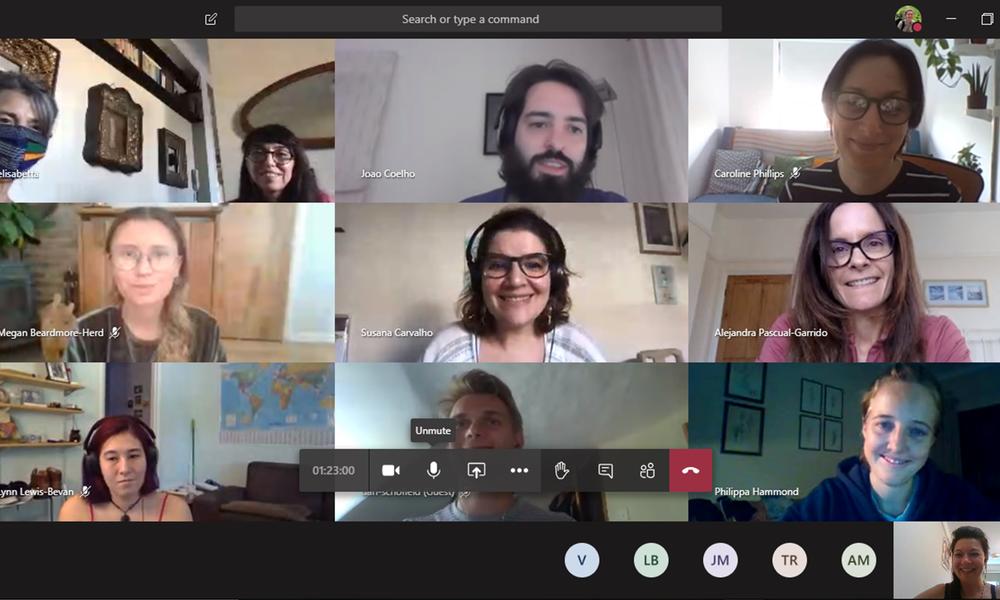 A very special 'Pint of Primates'
- discussing USOs processing by wild bearded capuchins with Dr Elisabetta Visalberghi & Dr Valentina Truppa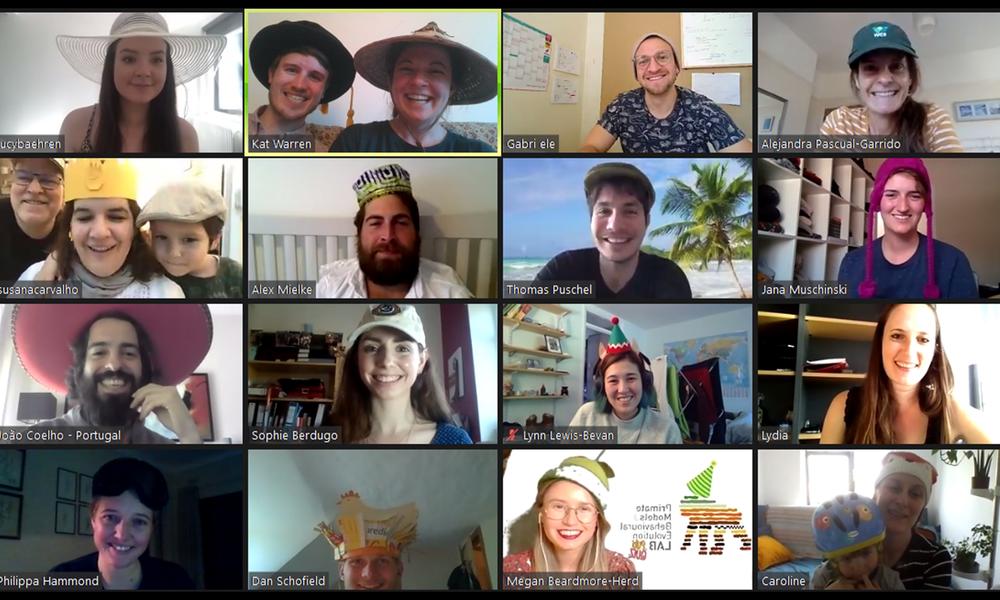 Our newest Lab photo!
Taken during a recent virtual celebration quiz - a bit different to our usual Lab get togethers, but still lots of fun!
Staying connected
As Trinity Term begins, our Lab has launched virtual coffee breaks and a new 'Pint of Primates' weekly discussion group to keep active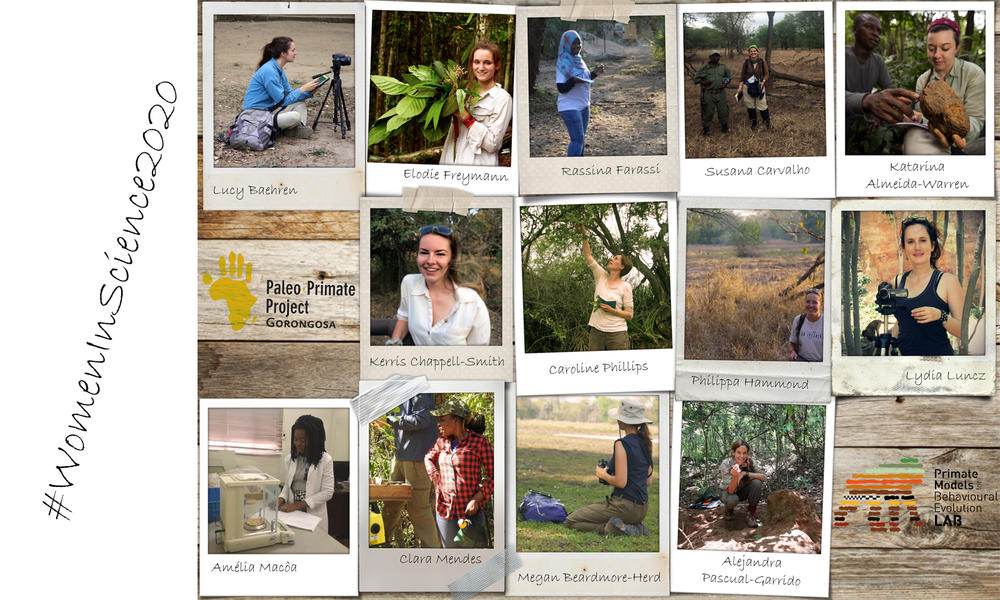 Celebrating the International Day of Women and Girls in Science!
#WomenInScience2020 #WomenScienceDay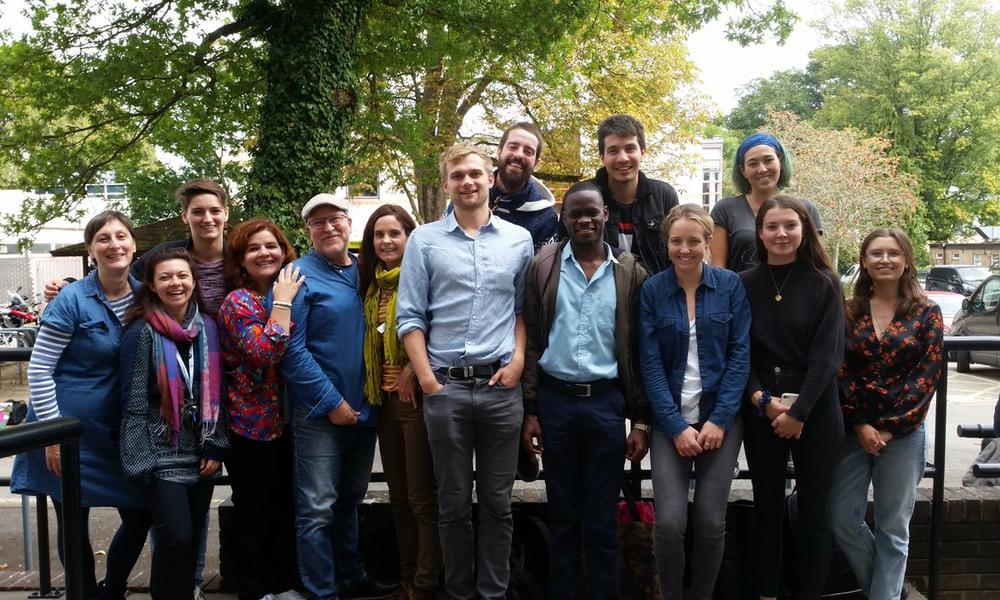 EFP-PSGB in Oxford
- (almost) all of our Lab members pictured during the memorable conference from September 2019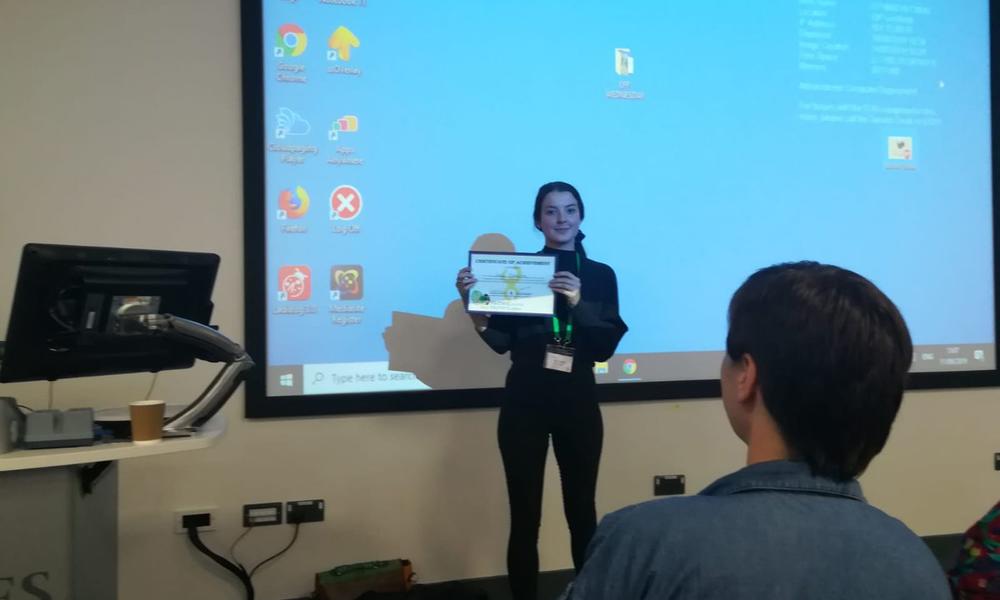 Lucy Baehren receives prize for best podium! #efp2019
With her presentation "Saying Goodbye to the methodological conumdrum of studying leave-taking"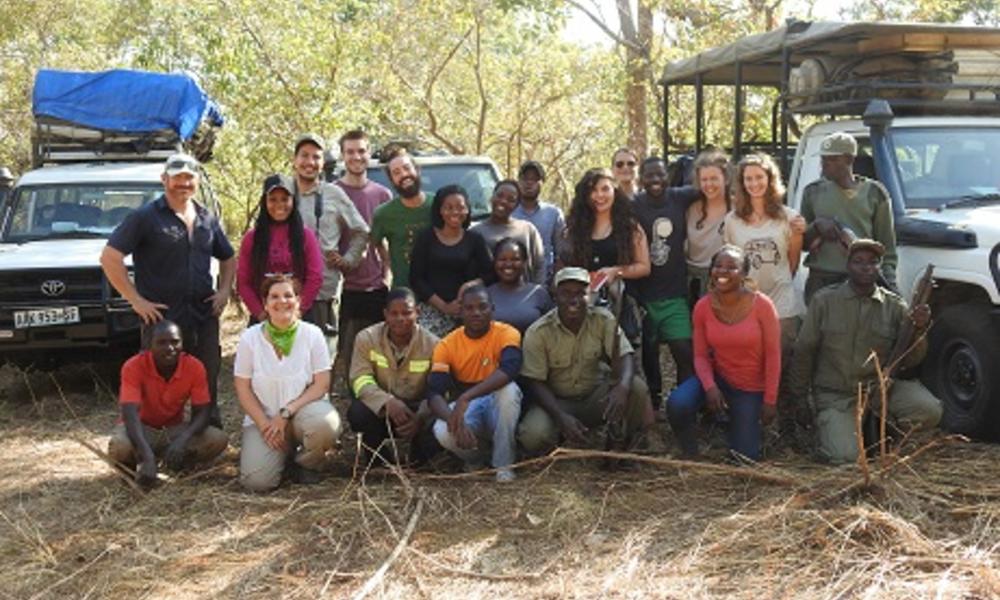 Participants of the Oxford-Gorongosa Paleo-Primate Field School 2019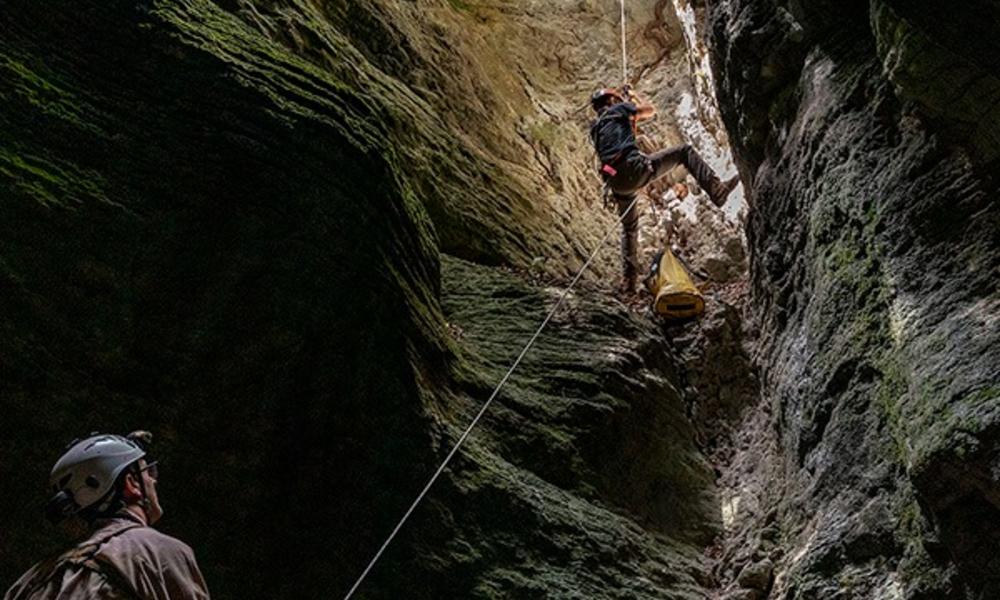 Paleo-Primate Project Caving in 2019
Photo by Piotr Nasrecki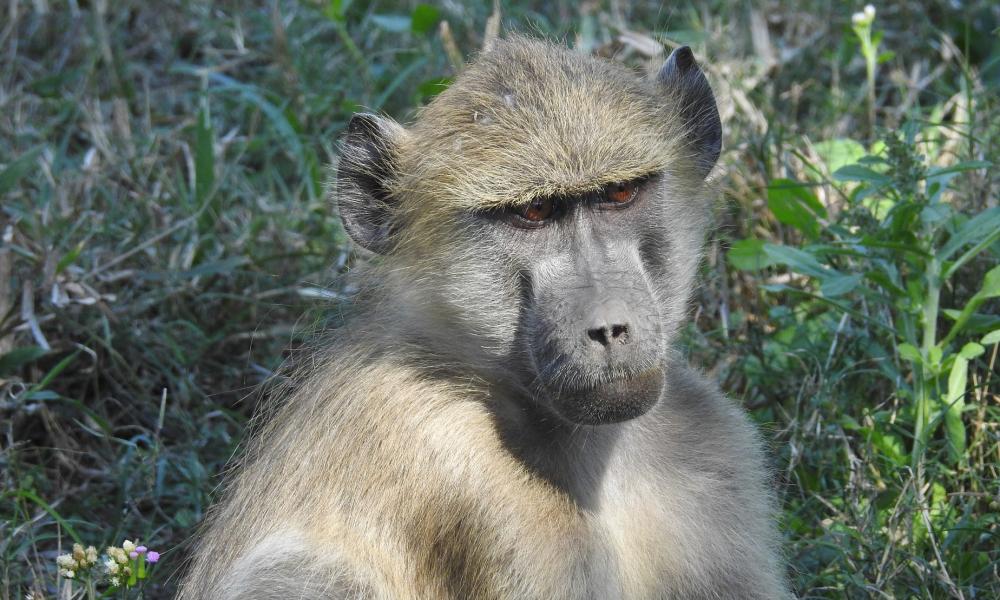 Baboon
Paleo-Primate Project, Gorongosa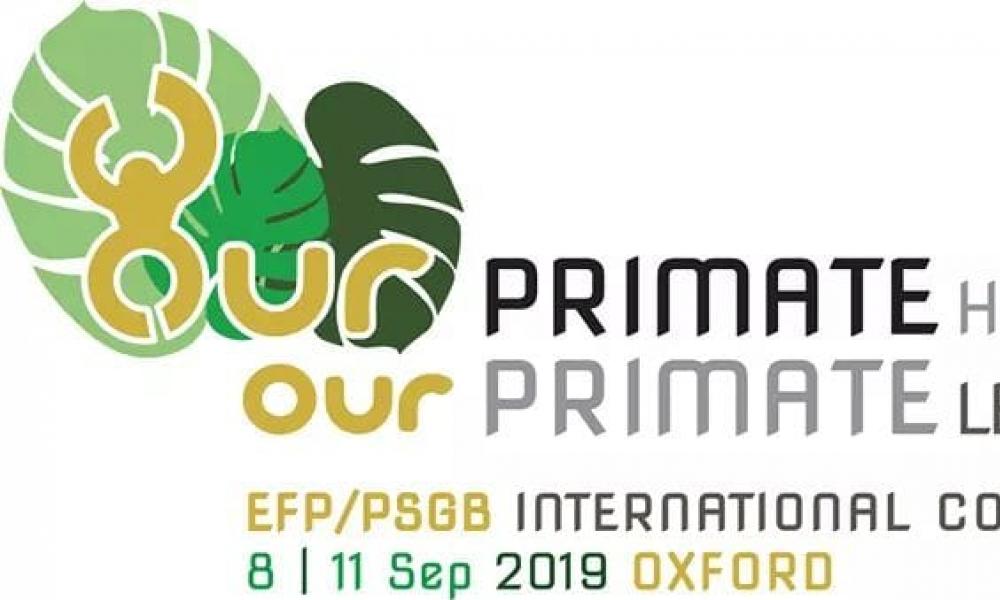 Our Primate Heritage, Our Primate Legacy
We are extremely proud to have joined Oxford Brookes in hosting the EFP/PSGB Winter meeting 2019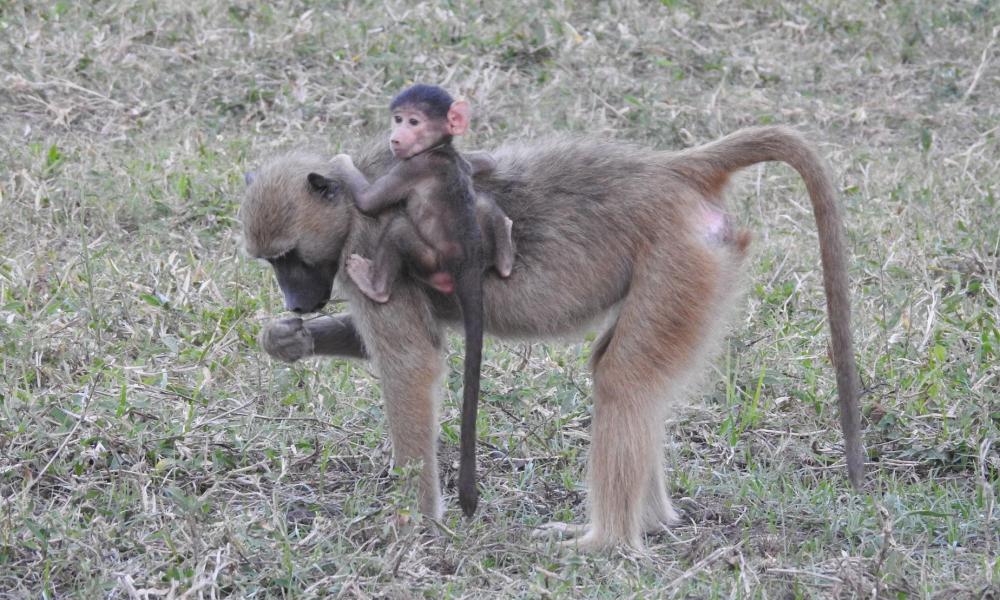 Baboon
Paleo-Primate Project, Gorongosa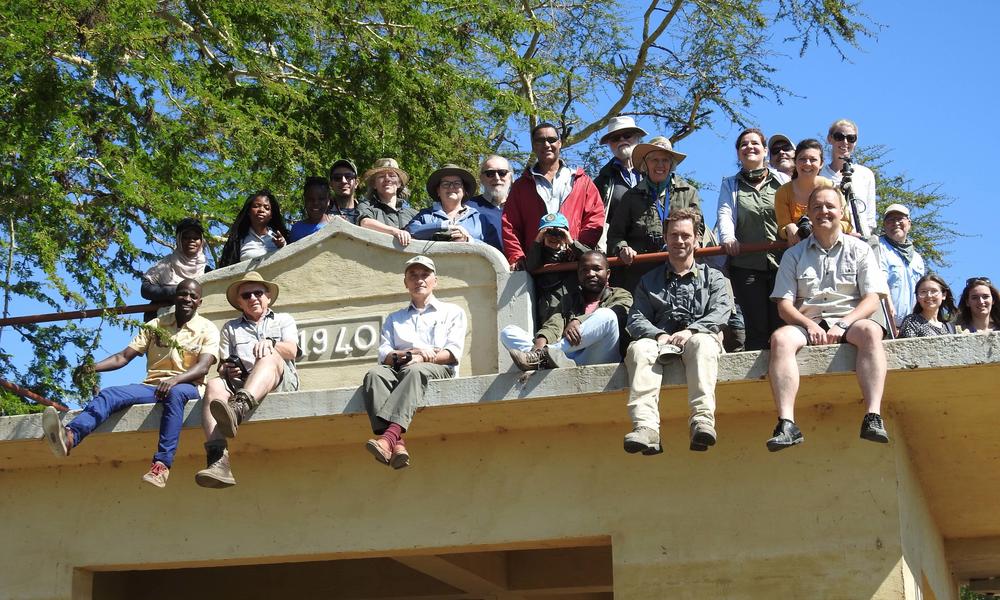 Wenner Gren Workshop participants at the Lion House - Gorongosa 2019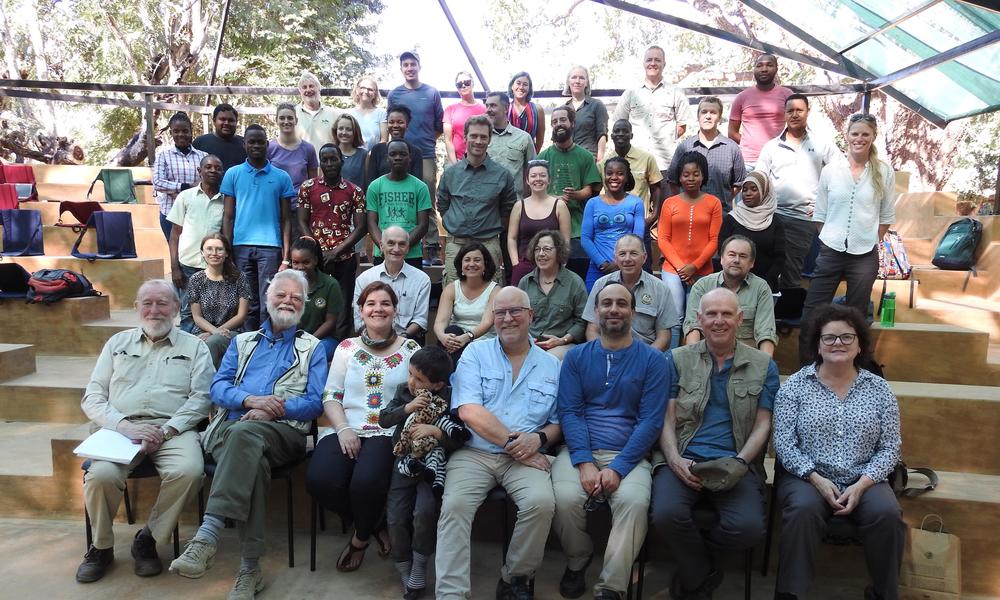 Wenner Gren workshop participants in the new Amphitheatre at Gorongosa National Park 2019
Gorongosa - Mozambique
Gorongosa National Park, Mozambique, represents the last unstudied link in the great African Rift that runs across eastern Africa.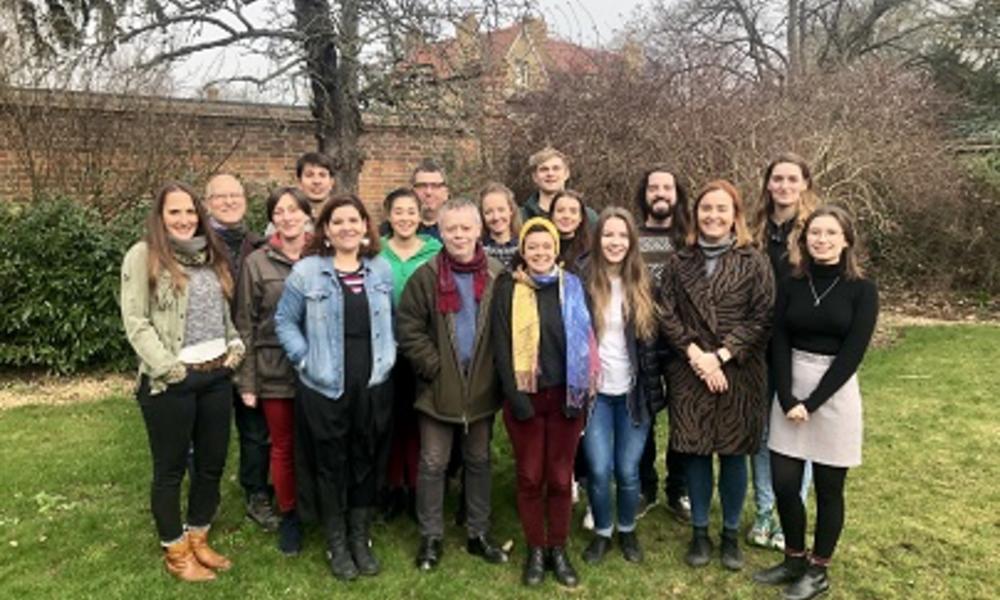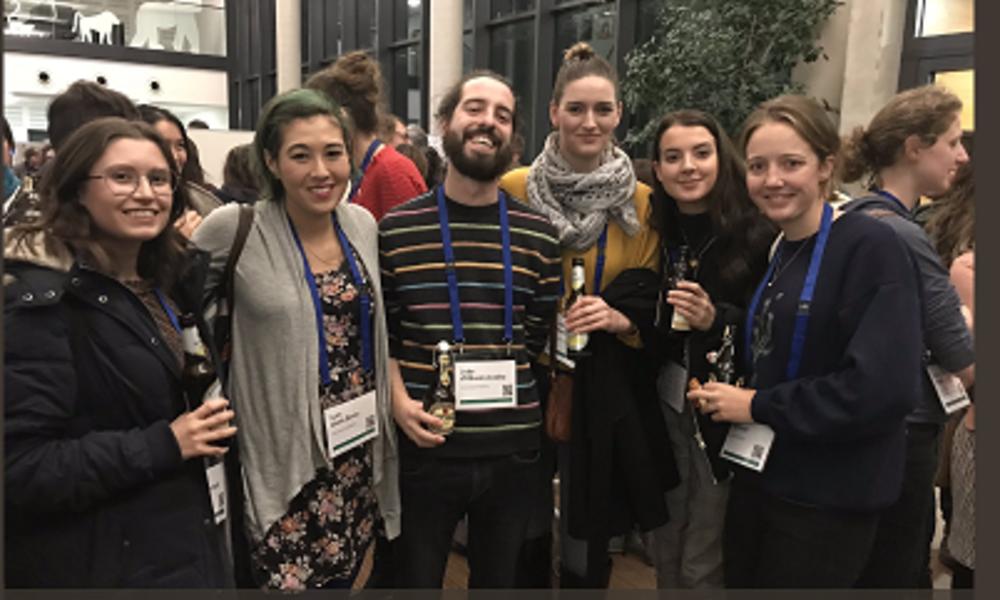 Our Lab at Göttingen for the Gesellschaft für Primtologie - 2019!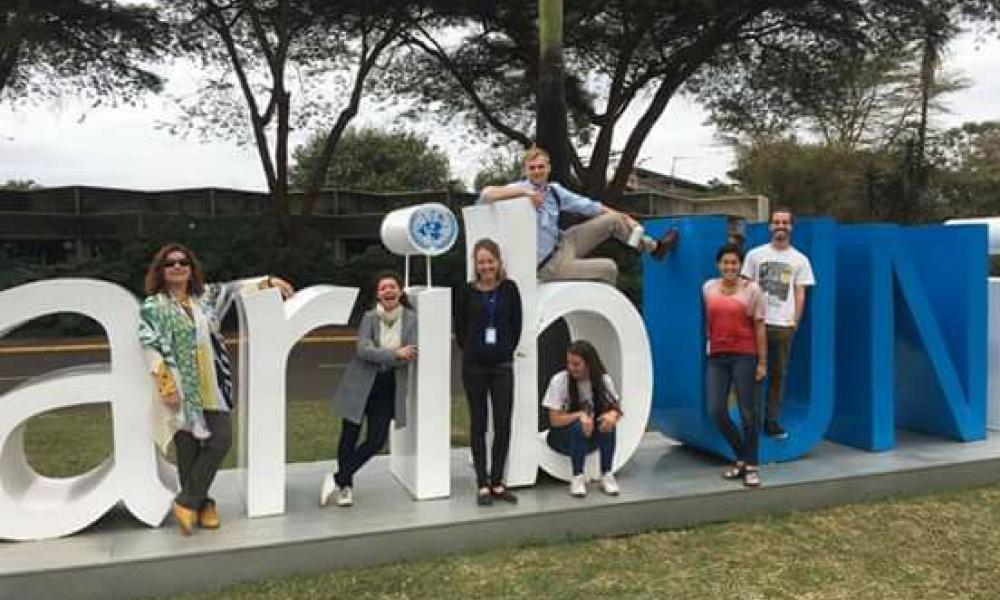 Our Lab at the IPS 2018
PMBE Lab at the 27th International Primatological Society Congress, in Nairobi (Kenya).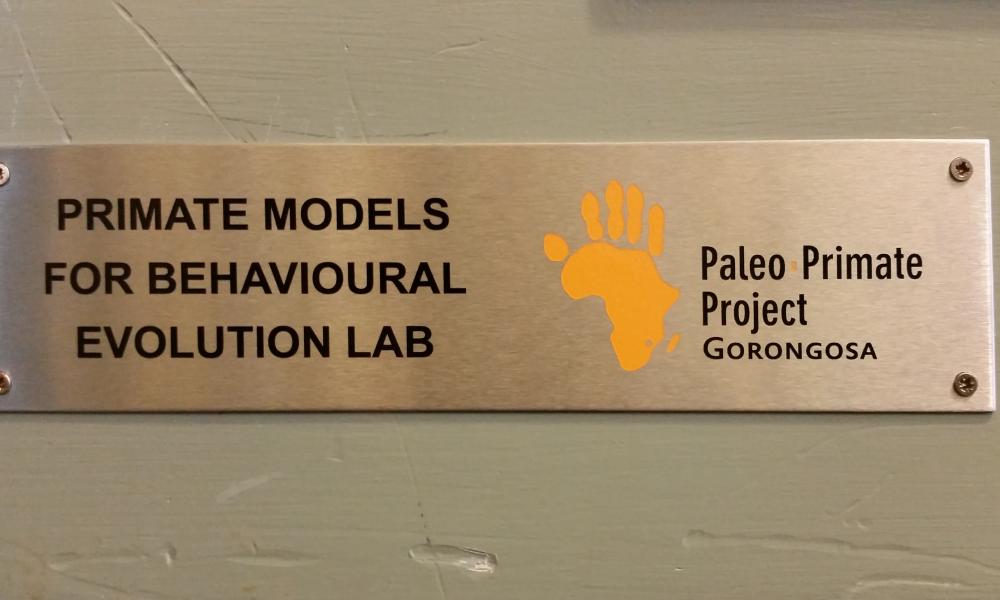 PMBE
Carvalho's Lab develops research focused on understanding the evolution of human and non-human primate behaviour.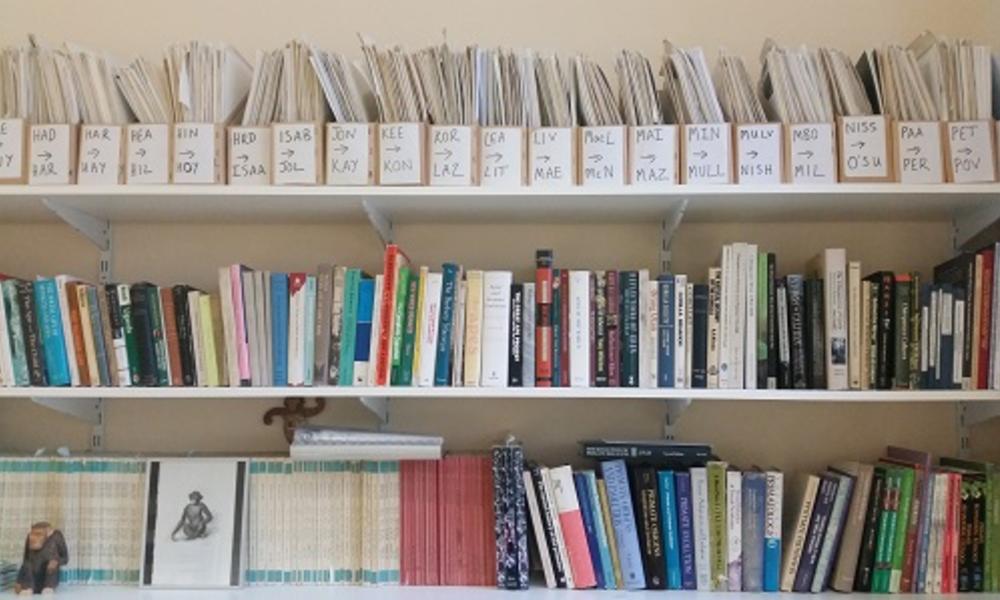 The McGrew-Anderson Library
Our lab houses an extensive library in the fields of primatology & human evolution.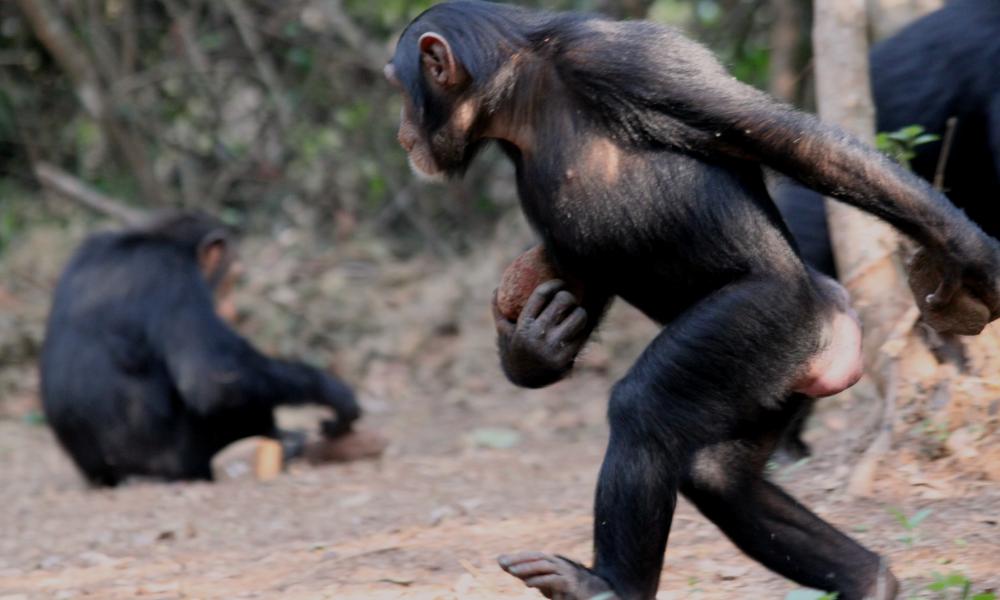 Bossou - Guinea
Since 2006, Susana's research has been focusing on wild chimpanzee stone tool use, in the forests of Bossou and Diecké.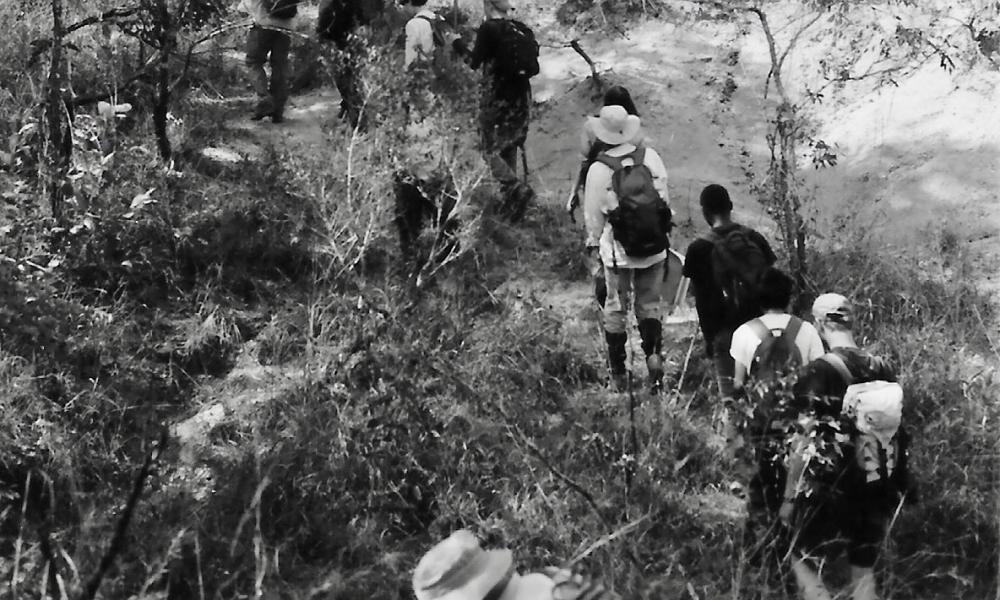 Paleo-Primate Team surveying in Gorongosa National Park, Mozambique.